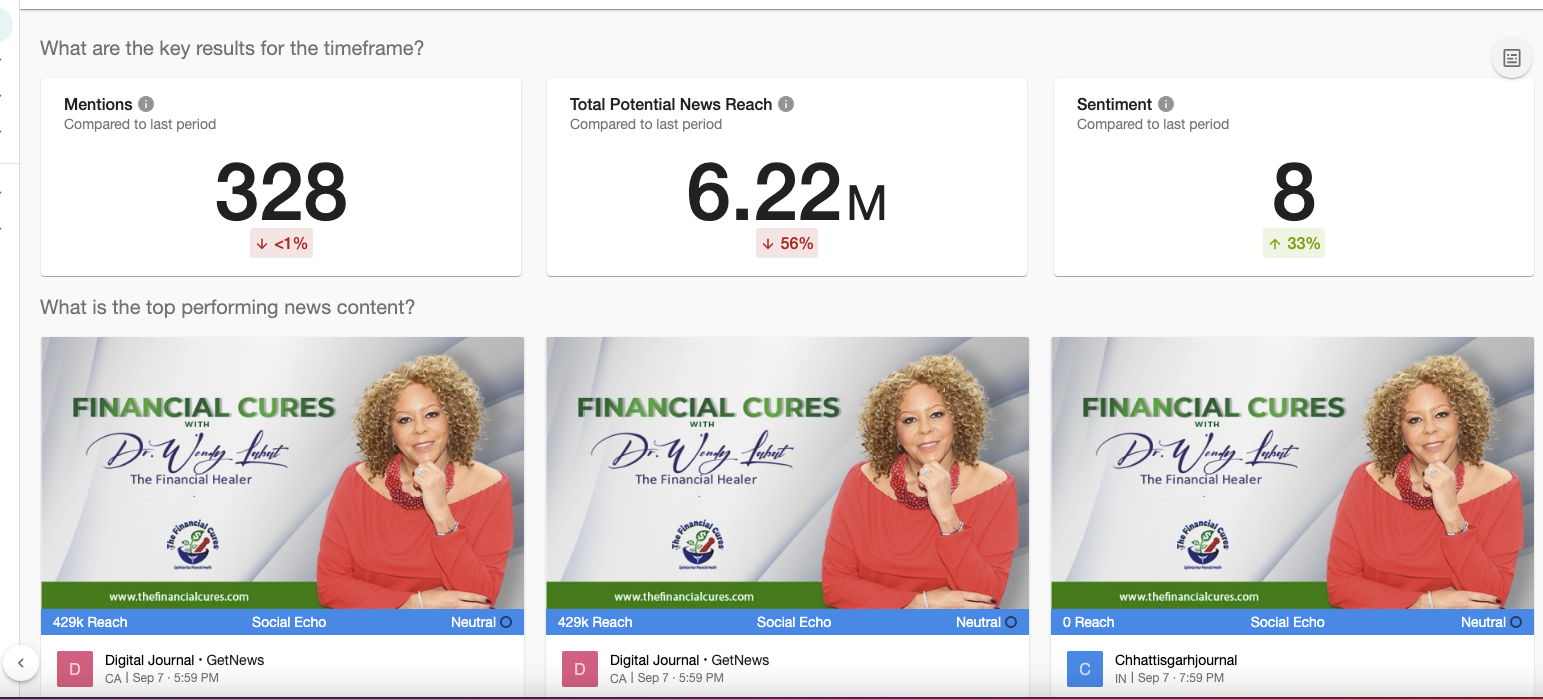 More Exposure with Media & Publicity
Become the #1 Authority In Your Niche Using Media & PR.
"I was offered a paid speaking gig after sending out my first press release." Dr. Wendy Labat

Have you ever thought about using media & publicity to boost your brand, build your business or get your name out there?
Getting featured in A+ Media news outlets is the fastest way to share your good news, accelerate your business, and build your credibility. Stand out from the crowd and the noise by getting your message featured immediately on hundreds of online news outlets.
With 3 press releases, Dr. Wendy Labat was featured on 328 news sites with a reach of over 6,000,000 in 90 days.



"Putting a press release out every month ensures I never miss out on creating publicity." Albert Corey
A Press Release Service Provides You with Consistent Exposure Turning You into the Top Authority in Your Niche.
When was the last time you put out a news announcement for your book, business, or brand?
Have you hit a milestone? Published a book? Received an award?
Alert the press!
A press release is a core document to feature your story to journalists and media professionals.
Let our team take you through the steps to creating a professional press release, opening up access to our major network distribution, and creating more visibility for your organization.
With a blast of media exposure, your story can be shared on professional media outlets, every few weeks!
"Our press releases created magic. Every time we'd put out a press release, something new and magical would show up for our business to announce." Zondra Evans
We are passionate about sharing your good news!
"I thought my business was too small to get PR, but over 100 news stations picked up our story, and one of our press releases had over 4,000,000 views!" Dr. Michelle Mras


We write press releases every day for people announcing their exciting news: approved to boards, publishing books, hitting milestones.
Leveraging the power of a press release opens doors.
Wendy's press release turned her speaking event into a "paid" speaking event.
Bradley's press release had schools calling him to speak - the same schools who wouldn't return his calls before they read his press release.
Taylor's brand new business appeared organically on Page One of an internet search after only 24 hours of her news being distributed.
When I was a morning radio talk show host, we would get into the studio at 3:00 am to check the latest headlines and news reports. We used press releases to fill our broadcast.
Your story.
Broadcasters need you. Journalists are looking for stories every day, and they find them in your press releases.
The beauty of the automated press release subscription is you never miss a month to share your news.
Every single month, we'll write a distribute a press release and tell YOUR story.
Done!
For You!
Off your To-Do List!
You keep creating the news, and we'll share it.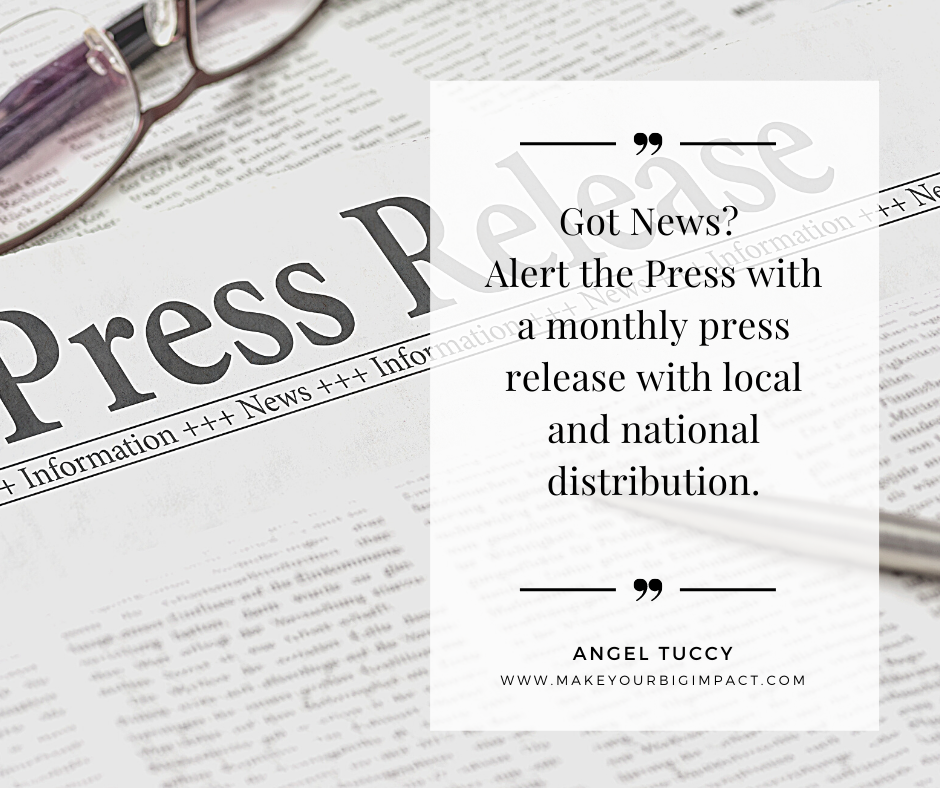 No time or unsure about what to write?
Our team of writers will take this off your to-do list. We write this for you! A professionally written story, filled with your keywords and buzz words ready for journalists and news desks.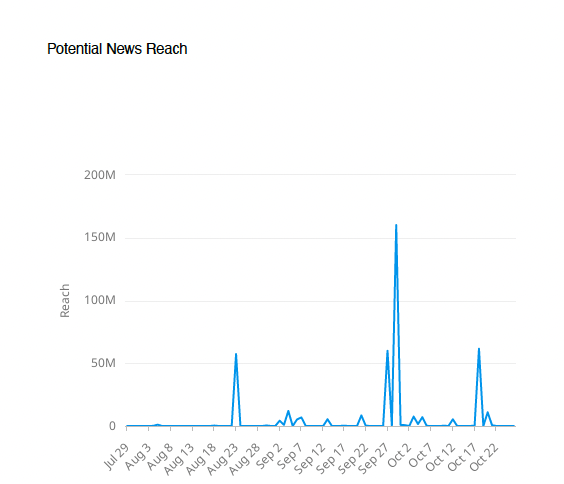 Immediate Exposure
Distributing a press release creates immediate exposure and ongoing momentum for your brand. A press release creates ongoing search results.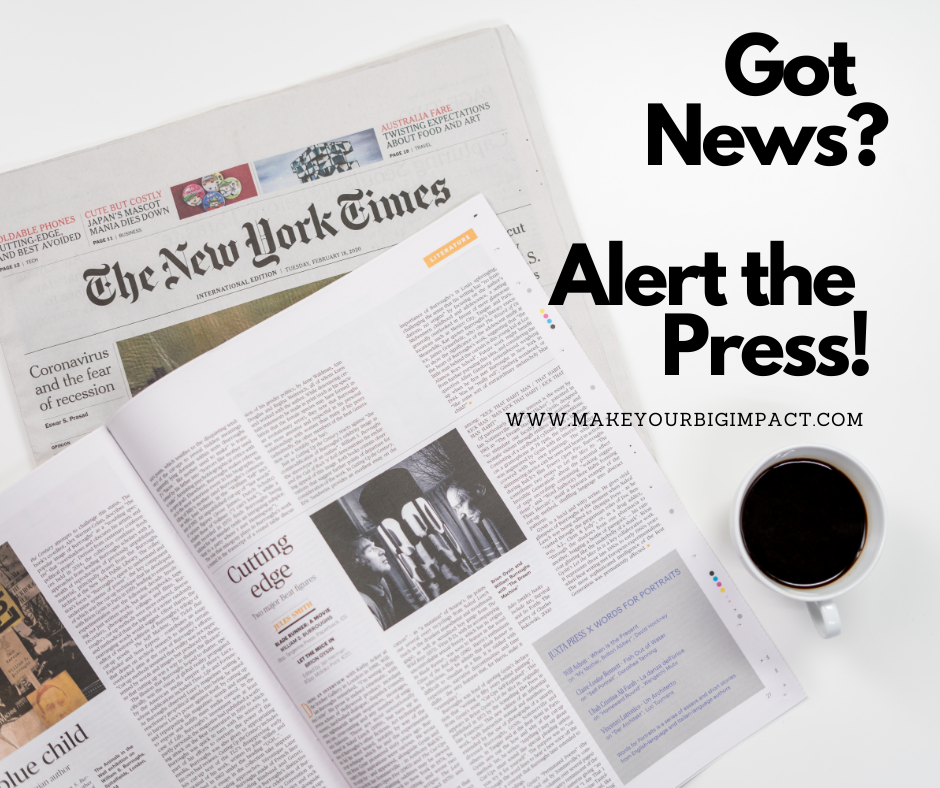 Is that your story in the news?
How exciting to be drinking your morning brew and see your name in the headlines! Yes, we can make that happen... over and over again.
How does it work and how long does it take?
Provide our team with some details to get your story started. Include a great photo, hyperlinks, and your call to action.

Within 24 hours, we will send you a professionally written draft to review & give 100% approval before we release it.

Once released, it takes 24-36 hours to see news stations respond.

Celebrate your publicity and schedule any interviews or follow-up.




More Ways to Elevate Your Business
Be sure to check out our collection of even more ways to get discovered using media interviews and publicity.
Check your inbox to confirm your subscription